Thank you for stopping by CruiseInd. The idea started it back in March 2009 as a simple wordpress.com website. It was just used it as a place to post images of newbuilds. Then featuring news about those news builds including breaking some exclusive stories. Oasis' aerostat, Norwegian Breakaway's Waterfront, and Oasis prototype mockups to name a few. From then on, CruiseInd has grown in popularity. Since we went to our CruiseInd 'dot com' in November 2009 hundred's of thousands of people have visited from 150 countries/territories.
The idea behind CruiseInd is to inform but also to teach you something. That's why some of my articles can get pretty technical. For example, here's a post I did all on 'duck tails' on ships (those extensions you see on the back of ships).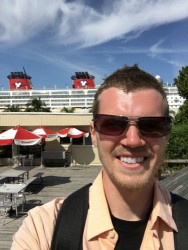 About Me
I currently work in the maritime industry as an engineer. This allows me to provide you with unique insight and knowledge not found anywhere else.  In my spare time, I normally spend hours studying and learning about the cruises, cruise ships, and anything else maritime related.
I currently reside in Houston, TX, but spend a decent amount on the road throughout the US and Europe.
Feel free to contact me by any of the methods listed below. I like hearing from my readers. Let me know any comments, critique or criticism you have (or if you just want to tell me I'm wrong).
Thank's again for stopping by.
Sincerely,
Greg Dragonetti
Founder & Editor-in-Chief of the CruiseInd Team