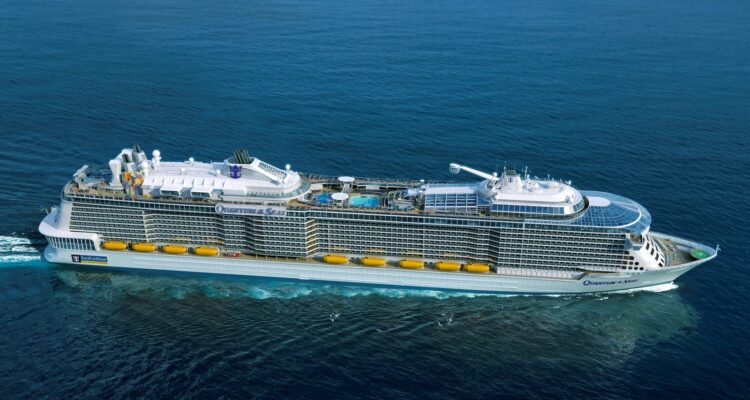 CLICK HERE FOR LATEST POSTS ON THE QUANTUM OF THE SEAS LIVEBLOG
ARCHIVE
October 27:
---
October 25:
Quantum of the Seas is still currently in drydock for what's being described as small repairs. There's also probably some last minute inspections of equipment that's normally underwater.

---
October 24:
Watch Quantum enter the drydock yesterday.

Via RoyalCaribbeanBlog they have the first interior photo from Quantum.
---
October 23:
Here's two bits of news today:
Nip tuck. @RoyalCaribbean upcoming #cruise #QuantumoftheSeas drydocked for final adjustments following recent sea trials.

— Stewart Chiron (@CruiseGuy) October 23, 2014
Delivery of @RoyalCaribbean upcoming #cruise #QuantumoftheSeas set for Monday, 10/27 in Bremerhaven, Germany. — Stewart Chiron (@CruiseGuy) October 23, 2014
It would appear that she is indeed in drydock at Blomm & Voss in Hamburg Germany.
Here's a view of her in Drydock. Live view can be accessed here.
---
October 21:
Engineering A Unique View: Installing Quantum of the Seas' North Star

---
October 20: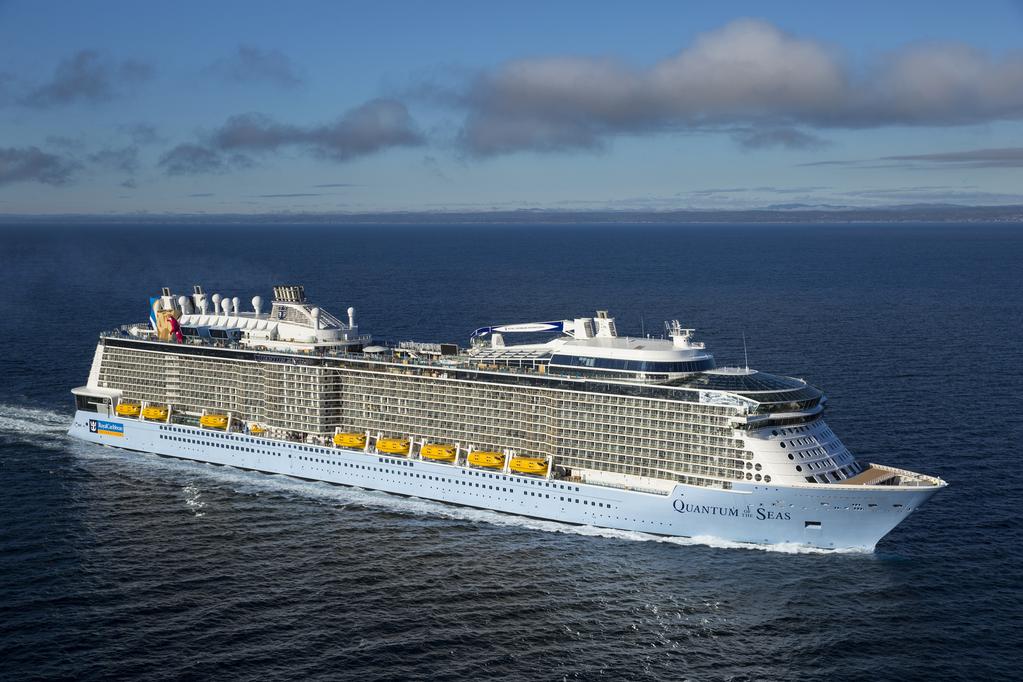 Here is Quantum's first fully completed exterior shot.
---
October 13:
Quantum as just set sail on her second sea trials.
---
October 6:
Every time I see this photo, I chuckle a little bit.
---
October 4:
Welcome to October everyone. Quantum is still in the North Sea. As of this post, she's making 3 kts. Here's her latest track:
---
September 30:
The Quantum is Currently on her Seatrials in the North Sea.
  Here's the long overdue recap of her Ems river transit.
---
September 22:
The Quantum as left the Meyer Werft yard and is currently transiting the Emms:
---
September 10:
Andreas Depping of depping-design.de posted excellent photos of a light show that the Quantum just put on. Full album here.
---
September 9:
Current installation of a centerpiece of the ships massive art collection.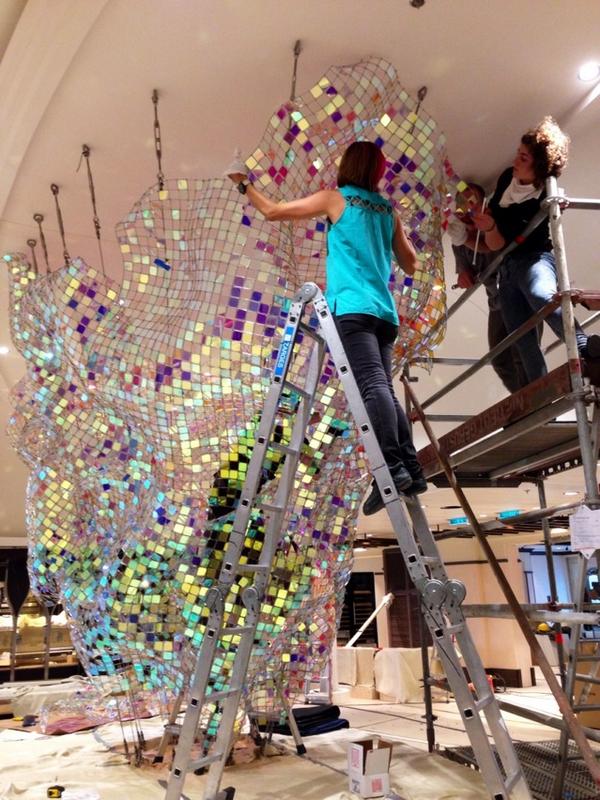 ---
August 31:
I found this site that shows a few more floatout pictures.
---
August 31:
---
August 28:
Here are some promo videos from Royal Caribbean about their technology and Satcomms on the QuantumRare interview with Bernard Meyer, of Meyer Werft in this one.
August 25:
via twitter @InTheLoopTravel
Royal Caribbean is currently holding a press event to discuss the technology that will be deployed on the Quantum. Guests will be able to Skype, Facebook and even stream movies. Crew are being given Microsoft Surface tablets to use onboard. When  the leave at the end of their contract, they'll be able to keep them.
Click Here to Read More
Papenburg, Germany, August 25, 2014 – Tech-savvy modern travelers will be wowed by Royal Caribbean International's newest ship, Quantum of the Seas, which incorporates unprecedented levels of technology to amp up the vacation experience.
"Cruise vacations have a romantic past – but they also have a lively, adventurous, state-of-the-art future," said Richard D. Fain, chairman and CEO, Royal Caribbean Cruises Ltd. "We were determined to take the best advances in modern technology, turn them into shipboard WOWs, and take the frustration out of the vacation. This ship's combination of ease and flexibility would make a yoga instructor proud."
Boatloads of bandwidth keep guests connected; easy-to-use systems expand guest choices and simplify schedules; and RFID technology speeds the boarding process and allows guests to keep track of their luggage every step of the way.
Altogether, customer-centered technology makes Quantum of the Seas six kinds of SMART:
SMART Check-In: From sidewalk to ship in record time
A Quantum vacation begins at home, where guests can generate boarding documents online, upload their own ID photo, and receive digital boarding confirmation. By the time they arrive at the cruise terminal for departure, Royal Caribbean guests can go from "sidewalk to ship" in 10 minutes with no check-in counter, no forms to fill out and no lines to stand in.
Guests will be able to track luggage in real time on their smartphones. Luggage will be tagged curbside with RFID technology at drop-off, and guests can monitor their bags' progress through key points en route to the stateroom. On departure, the process is reversed.
SMART Concierge: Flexibility at your fingertips
Quantum of the Seas will offer new RFID WOWband wristbands, which require only a simple tap to quickly navigate the ship, make onboard purchases, serve as the room key and more.
Simplicity and efficiency are also at the heart of two new apps that put guests in charge of their cruise choices: Cruise Planner, which allows guests to research and book dining reservations, shore excursions, spa appointments and more before their vacation begins; and Royal iQ, available as a downloadable app and provided at freestanding iQ stations around the ship. Royal iQ allows guests to manage details during the cruise, includes a convenient calendar that provides at-a-glance views of their program, and keep in touch with one another and home via phone and text capabilities.
"Every vacation minute counts, especially on Quantum of the Seas where there is so much to see and do," said Lisa Lutoff-Perlo, Executive Vice President, Operations, Royal Caribbean International. "Guests can now tailor everything about their cruise in advance, so they can start enjoying their vacation the minute they step onboard. In essence, they get back the first day of their cruise."
Taken together, these features take the company's time-saving efforts to a new level," Lutoff-Perlo said. "Every minute we can save our guests is another minute of their vacation they have to enjoy."
SMART Connect: Downloads at the speed of modern life
Quantum of the Seas will operate with unprecedented bandwidth using satellites launched by tech partner O3b Networks. With speeds that match fast broadband connections onshore, guests can be online 24/7, no matter what personal device they bring onboard. Guests can watch streaming video, check email, share images on social media and enjoy face-to-face video conversations – even in the middle of the ocean.
"Even when they are getting away from it all on vacation, people want to be able to connect," said Lutoff-Perlo. "Our satellite network will make things possible at sea that could never have been done before, and will make all the difference in the way guests share their Royal Caribbean experience."
In addition, Quantum's connectivity makes it possible for one of the SeaPods in SeaPlex to become a live global video gaming suite where guests can enjoy Xbox Live and compete with other gamers worldwide.
SMART Experiences: Shaking martinis and spinning screens
Technology also powers surprise-and-delight elements on Quantum of the Seas. A brand new venue, Bionic Bar, is set to make waves with robots at center stage. Guests place orders via tablets and then have fun watching robotic bartenders hard at work mixing cocktails.
Robots drive another entertaining feature on Quantum of the Seas. Two70 is home to a playful and agile troupe of six Roboscreens that stage surprise performances during every cruise, creating scenes while soaring and twisting solo, or uniting as one. Guests will also experience Vistarama, floor-to-ceiling glass walls that transform into an expansive ambient surface that projects any scene, real or imagined, including the multidimensional performance spectacle, Starwater.
Quantum of the Seas will take advantage of technology in functional forms as well. Guest staterooms are equipped with device-charging USB outlets, as well as energy efficient and environmentally friendly lighting systems. Interior accommodations are outfitted with Virtual Balconies that display real-time sights and sounds of the sea through 80-inch LED screens, ensuring every stateroom has a view.
SMART Service: Crew can connect better with guests – and with home
The technology benefits of Quantum of the Seas extend to the ship's crew. Custom apps will allow crew members to keep better track of guests' tastes and preferences, allowing staff to tailor their already remarkably personalized service to an even higher degree. Whether a guest prefers gluten-free dining, early show seating, or shiatsu massage, the features of the smart ship allow crew members to anticipate every need.
And the ship's remarkable capabilities give the company an opportunity to make life better for crew members too, since Royal Caribbean will present every crew member on Quantum of the Seas with a free, personal Microsoft Windows tablet, with a suite of services and apps that is theirs to keep. And as technology upgrades are made across the company's fleet, every shipboard employee in the entire Royal Caribbean International fleet will also receive their own tablet – a total of 40,000 tablets.
"The Royal Caribbean men and women who provide such great vacations are the real heroes of our fleet and these gifts demonstrate our appreciation in a tangible way," Fain said. "This technology isn't only about giving our guests a better vacation – it's also about giving our crew and their families a closer connection than we've ever been able to"
SMART Sustainability: Cleaner and greener
Technology has even played a part in making the ship more environmentally friendly. Sophisticated computer modeling was used to reduce the vessel's energy consumption with efficient hull configuration, engine design and energy saving devices. The ship has eliminated the use of incandescent bulbs; all lighting will be provided by low-energy LED or fluorescents. Motion sensors even dim hallway lighting when no one is present.
---
August 24:
I think this is Royal Caribbean Chairman and CEO Richard Fain here trying out the bumper cars in the Seaplex onboard Quantum.
via Twitter
---
August 23:
Andreas Depping of Cruise Ship Gallery has posted some High-res photos of the Quantum. The rest of his collection can be found here.
---
August 18:
Royal Caribbean has released an updated hi-res cutaway drawing of the Quantum.
Click here to download the original.(6000 X 3375 px)
---
August 15
Here's a nice aerial view posted from twitter:
Keith Maynard 
@beefikeefi
She floats! Quantum of the seas is out of the Yard.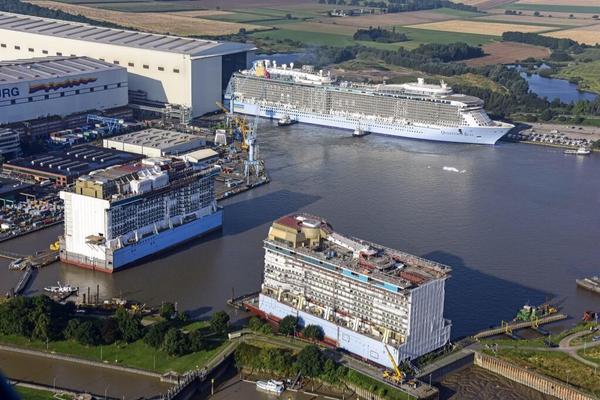 The two blocks there are the Anthem of the Seas. Now that Quantum is out and has made room for her, they were just floated back into the building hall where they will be joined together.
---
August 14
The Quantum is currently undergoing thruster and pod tests on her maneuverability.
And here is a nice sideview of the Quantum as this side has all her lifeboats.
---
August 13
Quantum of the Seas Floated out!   Royal Caribbean International's newest ship, Quantum of the Seas, will exit the enclosed building hall at the Meyer Werft Shipyard in Papenburg, Germany, tomorrow, August 13, revealing an unexpected occupant – a 30-foot-tall magenta polar bear situated prominently on the exterior deck of the ship. The bear, a sculpture created by Denver-based artist Lawrence Argent, is the first glimpse of the 2,980 piece, multi-million art collection themed "What Makes Life Worth Living" that has been curated for Quantum of the Seas.
Click Here to Read More
In addition to Lawrence Argent, an impressive portfolio of artists, including Paul Villinski, who created a monumental installation called "Crossing" which encompasses a wall of 210 butterflies representing 30 species, each made of aluminum, stainless steel, acrylic and enamel; sculptor Soo Sunny Park, whose sprawling, undulating structure titled "Waves of Light," explores the light's potential as a structural element. Pieces by these artists and others span size, art forms and mediums, and can be enjoyed both inside and outside the ship. "Royal Caribbean has a long history of showcasing original art at sea; in fact, we boast one of the world's largest private art collections across our fleet, " said Lisa Lutoff-Perlo, Executive Vice President, Operations, Royal Caribbean International. "The pieces we have commissioned for Quantum of the Seas are stunning, engaging and in some cases completely unexpected, and we are so thrilled that our guests have the opportunity to enjoy a variety of exceptionally brilliant works from some of the world's most talented artists such as Lawrence Argent." The bear titled "From Afar" is comprised of 1,340 stainless steel triangles, weighs approximately eight-tons and is intended to incite wonder among guests, encouraging them to admire the bear from afar, as well as interact with it on a more intimate, yet whimsical level. The piece helps guests explore the ship's art theme by showcasing intangible qualities of what makes life worth living, such as peace, love, joy, gratitude and passion, which is what Quantum's art pieces are meant to evoke, while sister ship, Anthem of the Seas, scheduled to debut April 2015,uncovers tangible aspects of the theme such as adventure, entertainment and nature. "It is quite exciting to be collaborating with Royal Caribbean on a very visible and significant piece of art that will allow my work to be exposed to thousands of people each week," said Argent. "The thing about cruise vacations is that they transport individuals from the normality of their everyday lives and leave them open to new experiences. The bear engages those that have a fear of thinking they don't know what art is and turns it into an approachable entity." For more than 20 years, International Corporate Art (ICArt) has curated the collections for Royal Caribbean's global fleet of 21 ships. The team combs the world for inspiring artists, new and seasoned, who create intriguing works to be showcased on the cruise line's ships, a process that generally takes two to three years. The groundbreaking Quantum-class ships, Quantum of the Seas and sister-ship Anthem of the Seas will introduce a new set of first-at-sea onboard experiences, such as Ripcord by iFLY, a heart-pounding skydiving experience; North Star, a thrilling adventure that transports guests more than 300 feet in the air on a breathtaking journey; cutting-edge transformative venues including SeaPlex, the largest indoor sports and entertainment complex at sea with bumper cars, roller skating and more; and the cruise line's largest and most advanced staterooms ever.
---
The Quantum will be floated out August 9th. She will leave the covered drydock around 0730 local time. Electrical power will then be fully functional as she will be removed from shore power and under her own by Saturday. Transit down the Ems river and first of a couple of seatrials are scheduled for mid September.
---
[ooyala code="VqdDQ1bzpT6B6I4Gx1Wz12FuMN9Qjmu8″ player_id="null"]
---
[ooyala code="U5MTE5bjqfkSbHAvL-fHy0bsUWq1SQAu" player_id="null"]
 Royal Caribbean International's newest ship, Quantum of the Seas, is poised to make a show-stopping debut in November 2014, with a lineup of entertainment offerings that push the envelope far beyond imagination. From stage shows that take guests on a highly visual and experiential journey of music, sound and performance, to a radically new form of multidimensional entertainment that seamlessly fuses technology with highly trained live performers, stunning visuals and special effects, Quantum of the Seas delivers an array of first of their kind productions and performances that will leave audiences spellbound.
 "The level of ingenuity, creativity and sheer imagination that has gone into the creation of the entertainment onboardQuantum of the Seas is staggering," said Lisa Lutoff-Perlo, Executive Vice President, Operations, Royal Caribbean International. "We are taking a quantum leap in all aspects of ship design and programming with the Quantum class, but the entertainment is especially remarkable. These shows and productions are truly one-of-a-kind, and we are confident that our guests will be WOWed."
Click Here to Read More
The Intersection of Entertainment and Technology
Already one of the most anticipated spaces onboard Quantum of the Seas, Two70° is the stage for a futuristic approach to entertainment that pairs the most advanced technology with brilliant dancers, singers, aerialists and musicians to deliver a powerful lineup of shows and events that have never before been seen on land, let alone at sea.
At the forefront of Two70° is Vistarama, an awe-inspiring innovation engineered especially for Quantum class. Vistarama transforms its expansive floor-to-ceiling windows into any scene, real or imagined, by combining 18 projectors to create an ambient surface over 100 feet wide and over 20 feet tall. Across this expanse, impromptu digital shows come to life in stunning 12K resolution, a pixel-perfect industry first. In addition, Two70°'s troupe of six agile Roboscreens stage surprise performances throughout every cruise. Each measuring over seven feet high and controlled by powerful robotic arms, the Roboscreens are delightfully nimble, as they create scenes while soaring and twisting solo, or uniting as one. The creative possibilities of Vistarama and Roboscreens are brought to life through the beautiful, imaginative and original digital content created exclusively for Royal Caribbean by Moment Factory, the internationally renowned studio in Montreal, Quebec, Canada.
"The entertainment in Two70° is simply magical," said Nick Weir, Vice President, Entertainment, Royal Caribbean International. "There is an incredible team of risk takers and dreamers here at Royal Caribbean. Together, we saw the magnitude of what this room could do and shot for the stars. We've always brought the best of land to sea, but in Two70° we are creating something that has never been done anywhere else in the world."
The integration of Vistarama and Roboscreens, with highly trained live performers, music and special effects,  provides an endless landscape for Royal Caribbean to create stunningly visual, first-of-their-kind shows that can only be seen on Quantum of the Seas.  Main shows include:
Starwater – created by Moment Factory, this original Royal Caribbean production is a highly visual, theatrical spectacle of video mapping, special effects and human artistry that combine to create an awe-inspiring experience designed to appeal to universal human emotions
Virtual Concert
 – a world-class concert experience featuring premier musicians, groups and bands that is masterfully captured and projected across Vistarama and all six Roboscreens to transport guests to a virtual experience as impressive as the real thing
Headlining a New Art Form The main theater onboard Quantum of the Seas, the Royal Theater, is a spectacular, state-of-the-art space that takes advantage of the latest technology to create a performance venue that raises the bar once again.  Seating 1,300 guests, the Royal Theater is home to Royal Caribbean's two main shows presented by Royal Caribbean Productions:
Sonic Odyssey –an original Royal Caribbean Production, conceived and created by William Close, Under The Radar Chicago and Art House Live, isinspired by musician and innovator William Close and his variety of one-of-a-kind majestic instruments. This unbelievable production includes his signature Earth Harp, a unique Drum Wall consisting of 136 drums, a Vocal Percussion Jacket, Violin Dress and more. Sonic Odyssey is an original, theatrical masterpiece that weaves together a nine-piece live orchestra with a cast of singers, dancers, aerialists and gymnasts to envelop the audience in a spectacular show that must be seen and heard to be believed.
Broadway at Sea Continuing to expand on Royal Caribbean's commitment to offering award-winning Broadway productions at sea, the Royal Theaters also will host the full theatrical version of the smash hit musical MAMMA MIA! Guests will delight in this sunny, funny tale of love, laughter and friendship, all set to the timeless songs of ABBA – including "Dancing Queen," "The Winner Takes It All," "Money, Money, Money" and "Take a Chance on Me." Live Music at Its Best Designed specifically with the music lover in mind, Music Hall is the hottest live music venue onboard Quantum of the Seas and the ultimate place for guests to enjoy intimate and exclusive access to live performances.  Music Hall comes alive at night as the heart of the ship's entertainment, featuring bands, musicians, DJs, theme night parties and more, including:
MAMMA MIA! After Party – when MAMMA MIA! ends in the Royal Theater, the party is just beginning in Music Hall, where guests can dance the night away during a red carpet, Broadway-style after party with featured cast members from the show
Tribute Band Program – an extensive line-up of incredibly talented live musical acts pay homage to timeless entertainers from every era, from The Beatles and Bee Gees, to Journey and Bon Jovi
Wink – a premium late-night show with class and sass, featuring the Royal Theater cast in an adults-only showcase
With a variety of productions, events and parties to experience throughout a sailing onboard Quantum of the Seas, guests are encouraged to reserve the shows they wish to attend prior to their cruise through Royal Caribbean's all-new Cruise Planner.  All shows are complimentary and included in the cost of a guest's cruise fare.
---
June 11
Now that the Regal Princess has officially entered service, I figured it's never too early to start this blog. Here are some construction photos courtesy of Jan van den Heuvel.